Home keeps your apps and users organized into the right teams and organizations.
Home is the place where you add new, share, manage and work with existing apps.

It's also where you can update your subscription and billing information.
Home navigation
Home is your hub for working with your Arithmix account.
Primarily it is used to create new apps, manage and organize existing apps, and determine how they are shared with each of your teams (or by using public app links).
Home is also your home base for user management and role/permissions.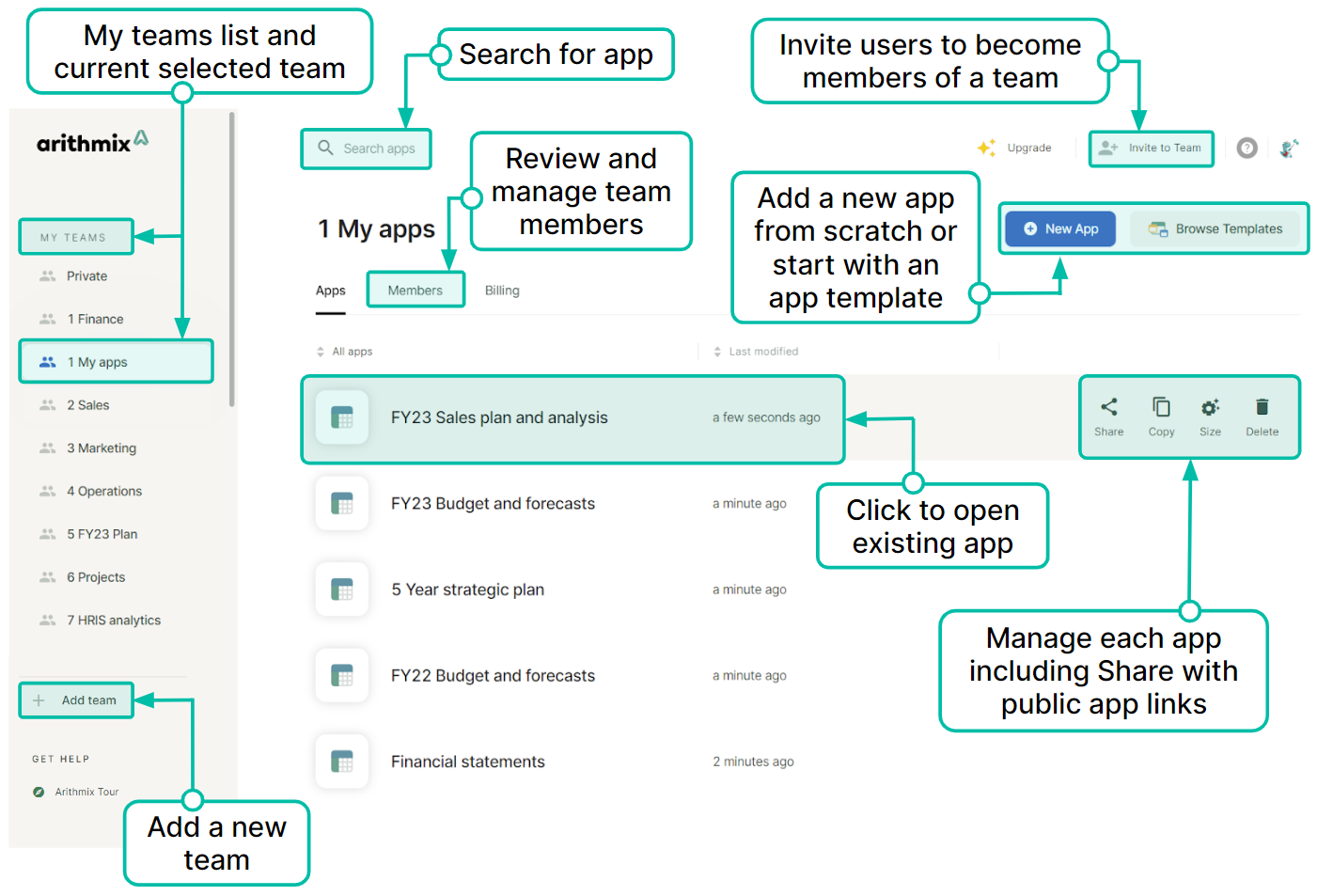 Teams, apps, and users
Teams, apps, and users are the three levels of hierarchy for organizing your Arithmix account.
Within an Arithmix account, teams are used to group apps and control team-level user roles.
Teams in Arithmix are groups of apps and their users. Teams are typically structured around functions (e.g. Finance, Operations) or processes (e.g. budget, sales analytics).
You can invite users to your teams to access, view and update apps.

Any user can start their own new team and invite users to the new team.

All teams you are a member of are shown in the Teams panel.

Other users may invite you to teams to access, view and update apps.
Teams can be internal (within your company or organization) or external (the outside world, such as vendors, customers and other third party users).
Arithmix apps are analysis and planning applications built using dimensions and measures. Apps are typically built to address use cases (e.g. quota planning, pipeline analysis), including data collection and consolidation, analysis, planning and complex modeling.

Users, roles and permissions
Team-level roles. Users may be assigned Owner, Admin or Editor roles, which govern their permissions for that team.

App dashboard-level permission. In a app, dashboards can be limited to specific roles. In the dashboard context menu set the minimum role, and only users with that permission or above may access that dashboard (this permission can be set for each dashboard in the app).
Teams and team-level user roles
At the team level users may be assigned team-level roles. permissions.
Owner. When you start a new team, you automatically become the Owner (you can share or transfer ownership). The team owner is the highest permission. They inherit the Admin role permissions, but is able to delete the team or any app within the team.
Admin. The Admin inherits the Editor role permissions, with two additional permission areas:

Admins can use all features inside an app, including adding new dimensions, measures, tables and dashboards.
They can manage users permissions (updating permissions) and billing (controlling the Arithmix account subscription and payment options).

Editor. Editors perform new and updating actions on data values and may extend existing dimensions. Editors cannot add new dimensions, measures, tables or dashboards.